MA BIBLIOTHÈQUE

Reading is both a virtue and a duty. The editor invites authors she considers to be good readers. She agrees with Nabokov that a good reader, a major reader, an active and creative reader, is a re-reader. She knows her writers and they know her, even when they have not yet met. They have read each other, or believe themselves to have done so. They are flirtatious, ruffling pages. She likes those who do not hesitate to buy the books she publishes, but under certain circumstances will make excuses for those who do not. She promises to do her best. The best is reading.
MA BIBLIOTHÈQUE publishes four series:

The Good Reader, slim stapled bookstaking up themes of reading/re-reading, in a signed and numbered editions, each of fifty copies and ten author's proof, sold at absurdly low prices. When they are gone, they're gone. The latest is The Cesspool of Rapture by Joseph Noonan-Ganley.
The Constellations, book-length essays and experimental fiction (there are other terms to describe this, art writing, for one, but let us say that the editor has been undertaking this for many years without calling it anything but her work. This is, perhaps, salutory). Recent books are by Rachel Cattle., Felicity Allen, David Berridge, Kate Briggs, Anabelle Hulaut, and Isobel Wohl. Forthcoming are books by Rachel Cattle, Paul Clinton, Susan Finlay,Wiebke Leister, Francis Wasser, and Linda Stupart.
Anthologies, collected essays, artist's and writer's projects, at the editor's whim. It is, after all, her enterprise. Book covers, as some may have noticed (yes, the editor continues to resent two pejorative comments about this), are in varying attractive shades of pink. Recently published: The Graveside Orations of Carl Einstein, a project by Dale Holmes, edited by Dale Holmes & Sharon Kivland. Forthcoming: Unable to achieve broad recognition in my lifetime, I laboured in obscurity until my death last year, by Sharon Kivland.
The occasional modest pamphlet, perhaps a little pricey for what they are, but eminently affordable nonetheless.

MA BIBLIOTHÈQUE has migrated to a little on-linebookshop. The Constellations and the Anthologies may be purchased via the link below and there are instructions there on how to order other books (while we complete the site)
https://mabibliotheque.cargo.site/MA-BIBLIOTHEQUE
Below are some of the books published to date.
Sharon Kivland's own books are listed under 'PUBLICATIONS' on this site, and some are available from the MA BIBLIOTHÈQUE site.



A new pamphlet
Sharon Kivland, J'attends un enfant
The above is from a series of small, attractive pamphlets, collecting and reframing found images, which casts a rather unsavoury, even sinister gaze on representations of childhood. Here is l'enfant destructeur.

20 pages, 105 mm x 150 mm
Format: Sewn 2019
ISBN 978-1-910055-58-8
Edition of 50, each signed and numbered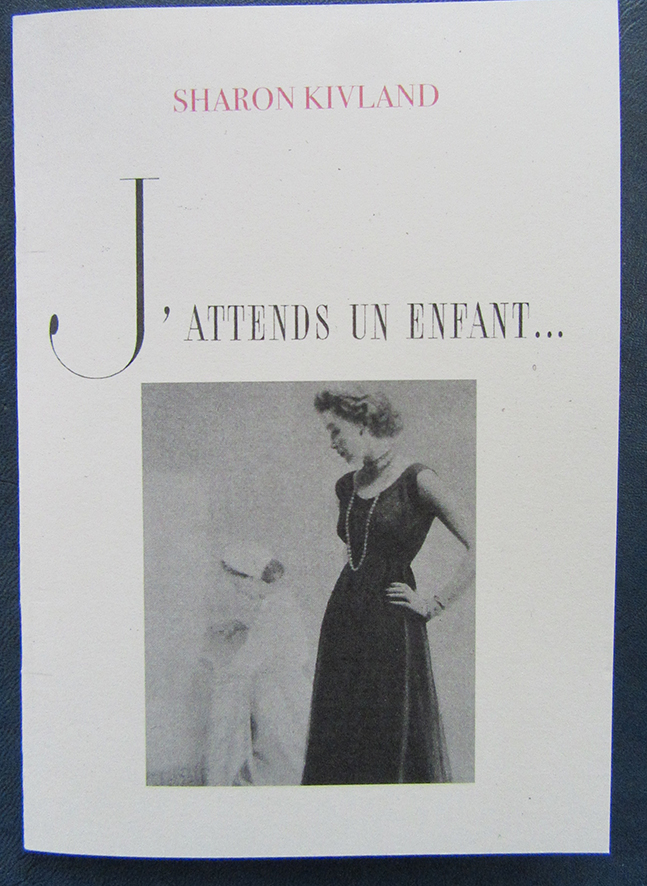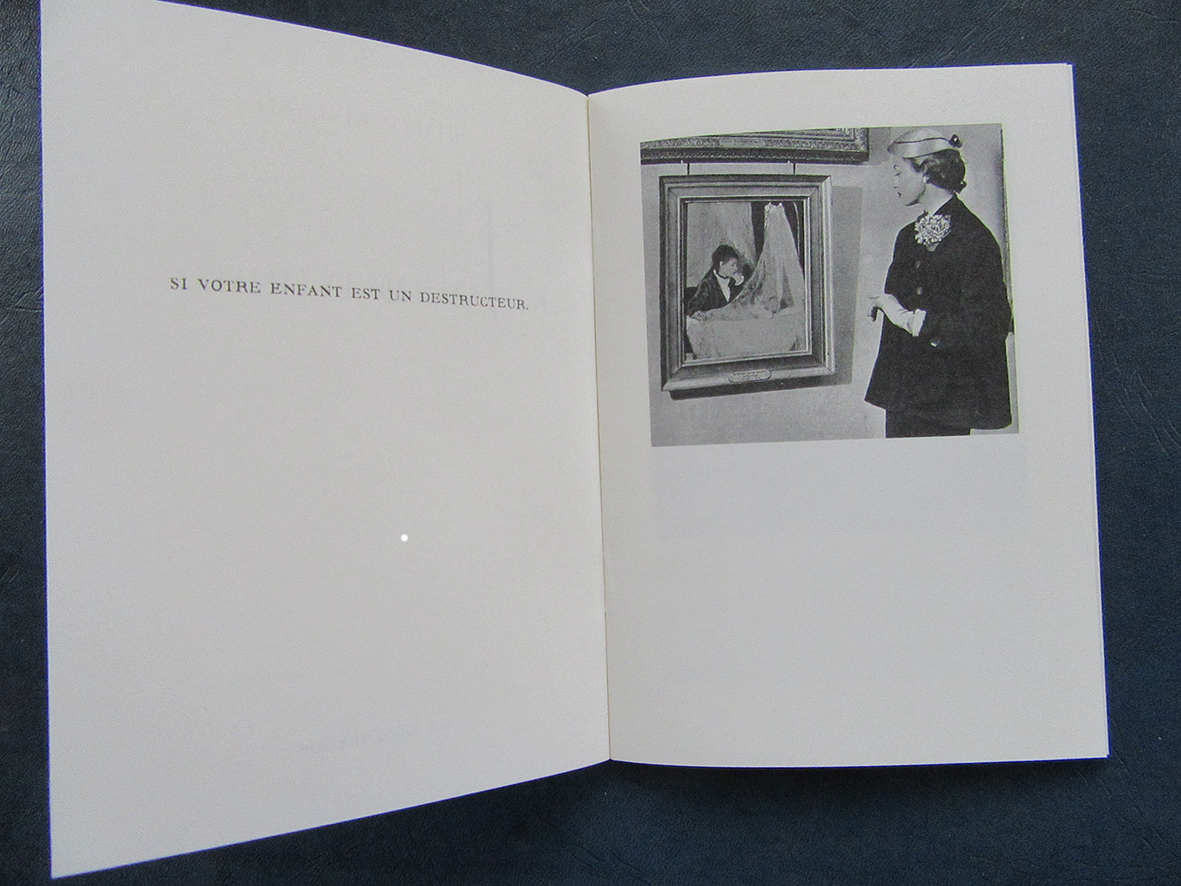 New in the THE CONSTELLATIONS series
Felicity Allen, The Disœuvre
Felicity Allen coins the neologism 'Disœuvre' as an alternative to the conventional 'oeuvre' produced by art's heroes. Four voices (material, personal, rational, and cultural) converge to produce a Disœuvre, where the unrecognised work, its continuities of thought and commitment, is situated as coming and going.

'While this book appears to be fragmentary at first glance, it introduces in a cohesive, suggestive, and evocative manner the powerful concept of the Disœuvre. We are invited to think ourselves into these pages, recognise our own disœuvre, and the experience of creating, having, and living with it. The multiple registers of the diaristic, the reflexive, the authoritative, and the poetic voices are augmented by the visual narrative, and by the presence of the WASL table as the site that recalls the unfolding of Allen's own disœuvre. It is a delicate and eloquent testament.' Hilary Robinson

44 pages, colour illustrations throughout
170 mm x 105 mm, 60 mm cover flaps
Format: Paperback
ISBN 978-1-910055-56-4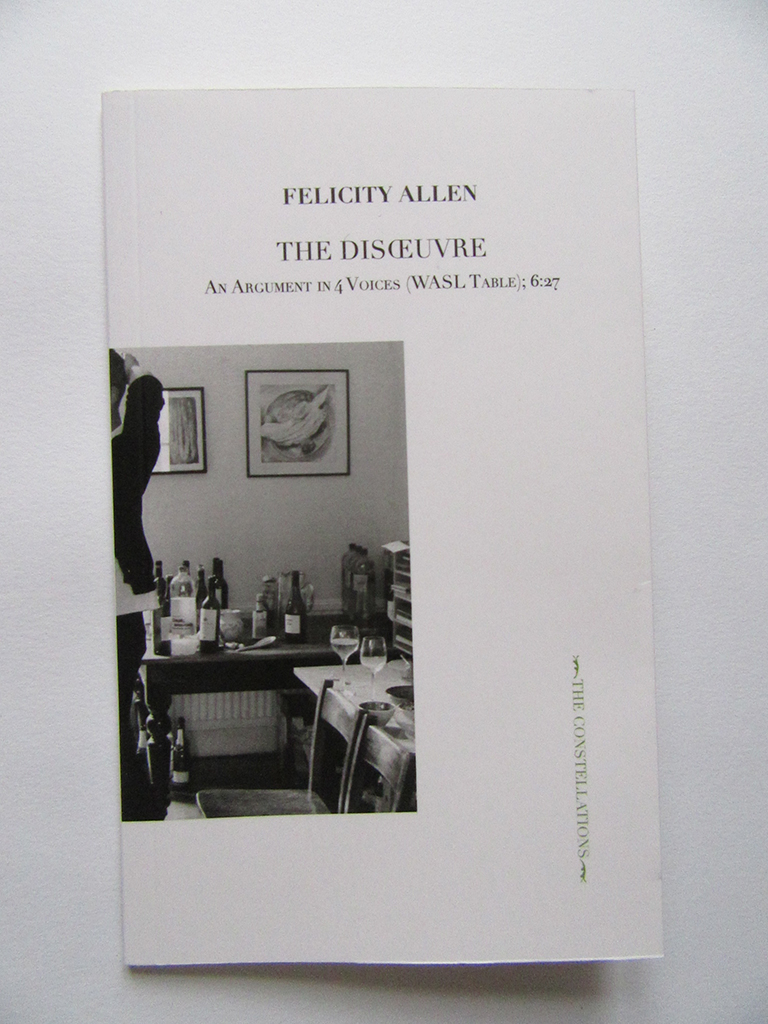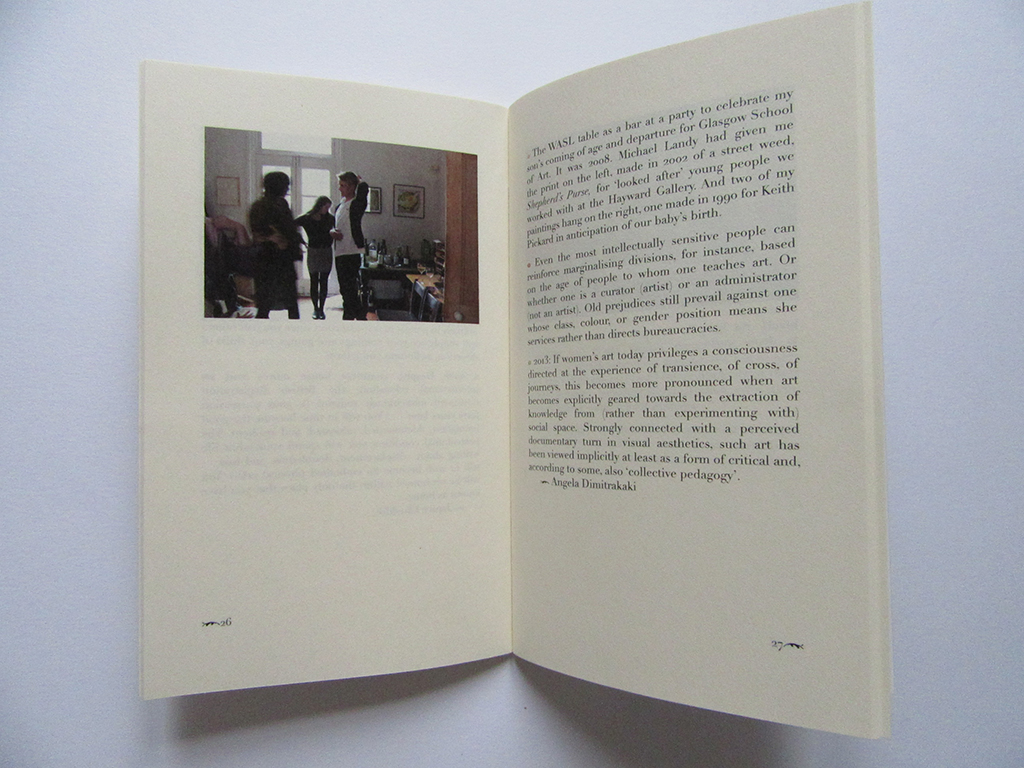 David Berridge, The Drawer & A Pile of Bricks
In the new house the sounds had no space, no sureness of near or far, nothing to attribute them to, apart from My Racist Aunts. That's us, they said. All of us. Your deal. Hairdressers on a Central London street freeze, find themselves transported to a desolate seaside town. Ideas and projects are written for the drawer, a realm of the unpublished and unattainable, then inconveniently realised. A monument to the Third Revolution takes shape in a small bar, alongside an open packet of crisps, a way of sitting on a stool, and a resemblance to Sherlock Holmes. What fortunes can be told from the names given to alleyways and steep flights of steps? Who can be glimpsed from behind a fishing boat, or in the lengthening shadows of the tall town houses bordering the park? Is this romance? There is a house to be cleared, and a pile of bricks appears to be immovable. Is an old friend awake for the election? Hatch a plan for escaping disaster, robotic movements on the cliff top, as Aunts of noxious intentions trumpet, amok in the city centre, again

'Can you make a life out of a pile of bricks, or make a pile of bricks out of a life? Does Regis equal a question? Does Britain equal birdsong? Is there a good enough way to respond to this book that builds such a slight, solid thing from its own sly language?' Joanna Walsh

92 pages
170 mm x 105 mm, 60 mm cover flaps
Format: Paperback
ISBN 978-1-910055-57-1
£10.00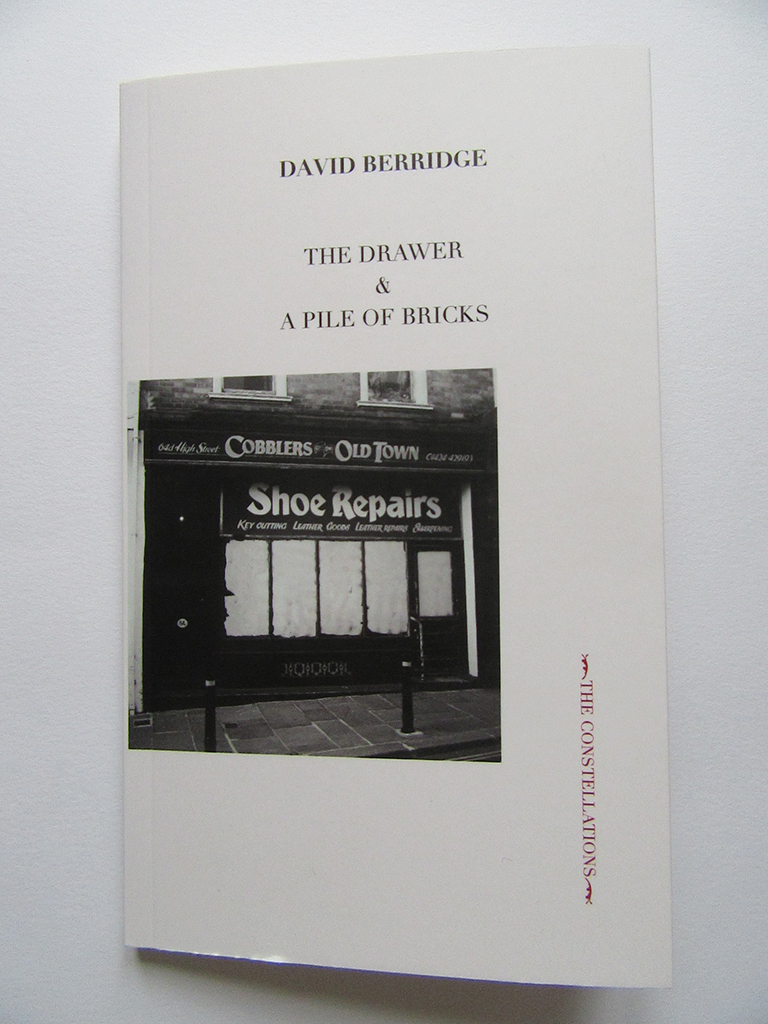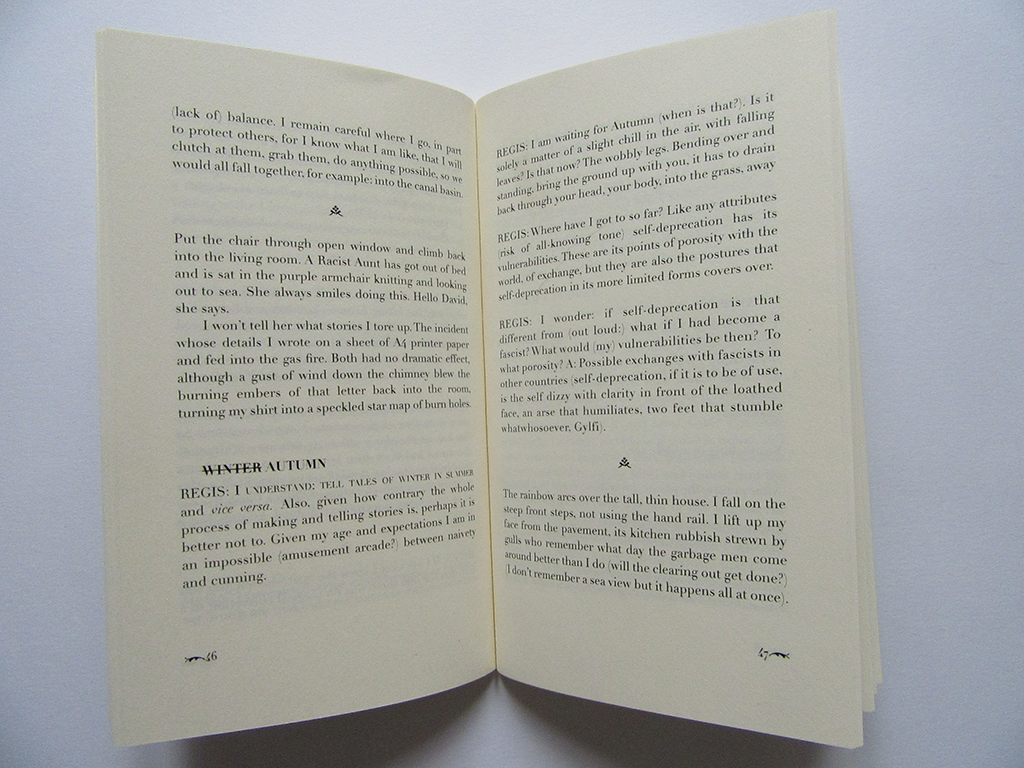 Kate Briggs, Entertaining Ideas (The Long View)
ENTERTAINING IDEAS began as a reading exercise: an effort to perform a 'good reading' of Elizabeth Jane Howard's The Long View (1956), and to think about what a 'good' short reading of a long novel might mean, what it might look like or read like. As a translator, Kate Briggs accepts that writing out a reading involves change, tampering with what seems perfect, and doing so from necessity, as a way of learning how exactly it works. She has changed Howard's book. Her exercise changed too, expanding unexpectedly into a set of reflections on writing backwards, living forwards, and entertaining ideas.

'Kate Briggs generously shares with us her unique and delicately revolutionary way of reading; the moment where writing becomes the only way to grasp our slippery thoughts and desires. This book is pure joy.' Alejandro Zambra

64 pages
170 mm x 105 mm, 60 mm cover flaps
Format: Paperback
ISBN 978-1-910055-55-
£9.00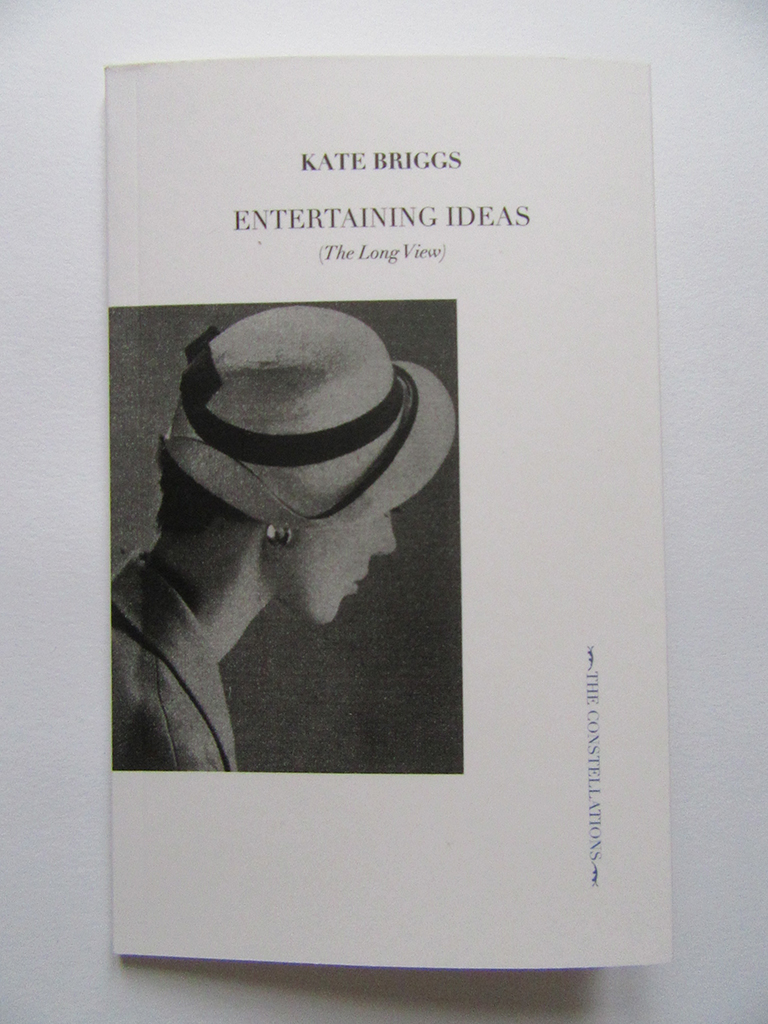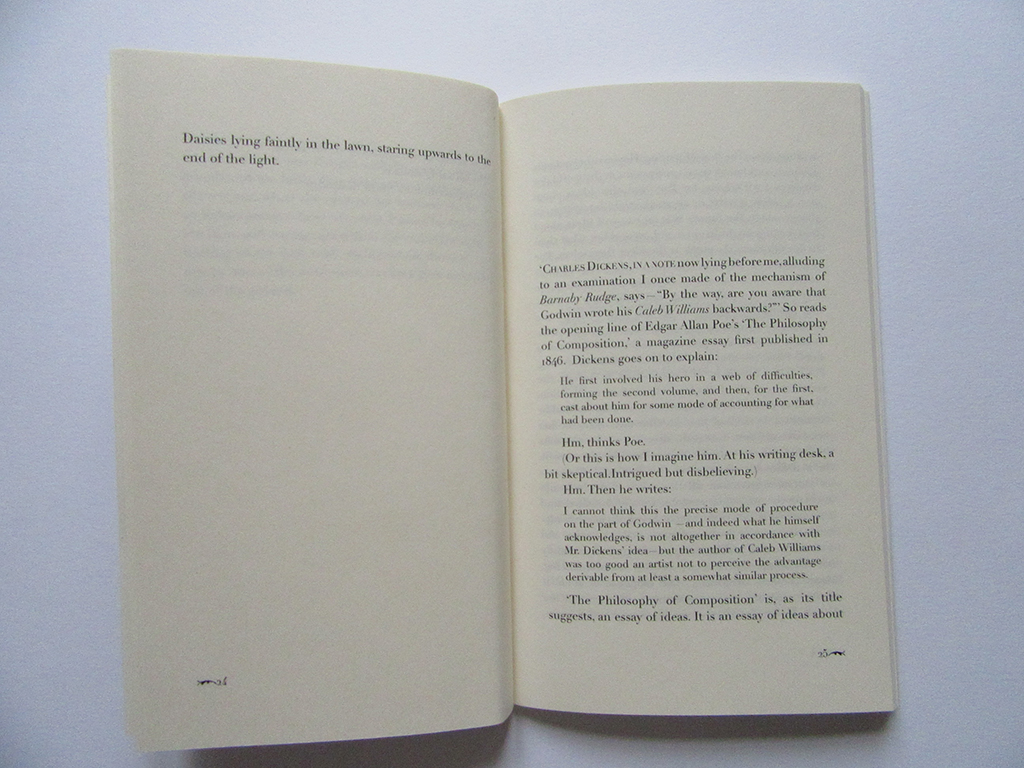 Rebecca La Marre, Love is the Language that Sex Speaks
There is a scene in Pier Paulo Pasolini's Decameron in which a crowd mourns the death of a saint. The performance of their grief is guided by local religious custom. While they are transported into an encounter with the sublime, pick-pockets steal their wallets. This image is a point of departure for this book, its text gathered by recording whatever thoughts were of enough substance to be noted. Much of the material is of uncertain authorship, derived from overheard conversations, the utterances of others, and passages from books, articles, films, and images. Over four years La Marre collected phrases as if physical material, assembling an argument for what a secular approach to grieving may look like.

'Through this accumulation of fleeting thoughts, given by the simple act of daily writing a body that can feel love and pain, Rebecca La Marre attempts to "imagine a positive encounter" with various others—positive in the sense of both the vague promise of happiness and the ethically indifferent electric charge of relating.' Hannah Black

44 pages, 170 mm x 105 mm
Format: Paperback. 2018
ISBN 978-1-910055-52-6
£7.50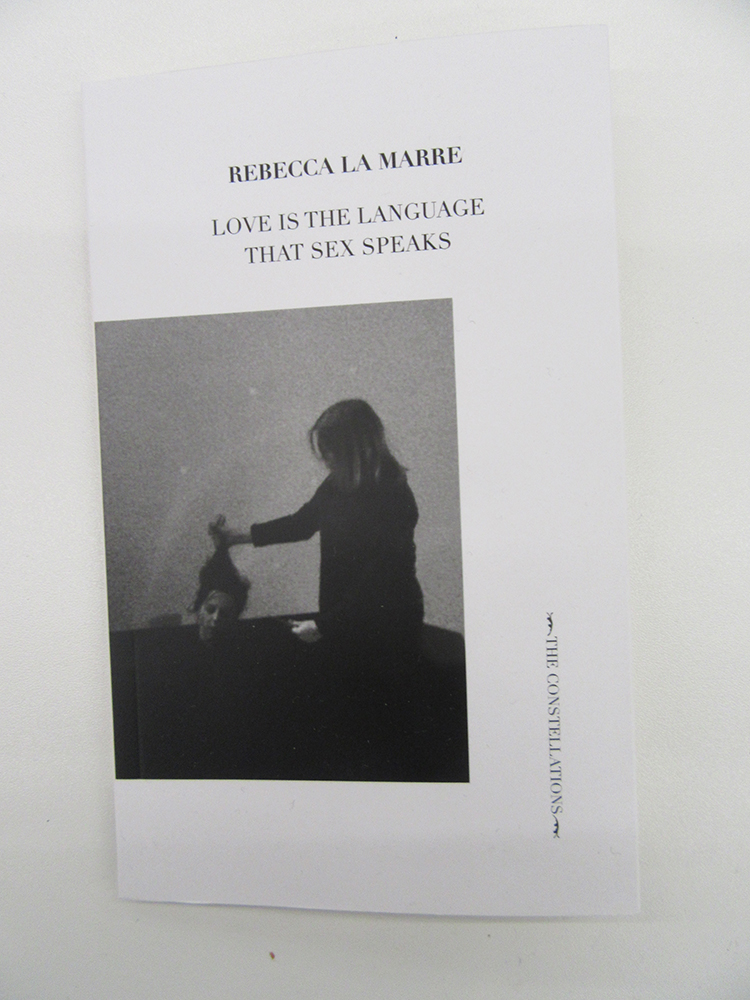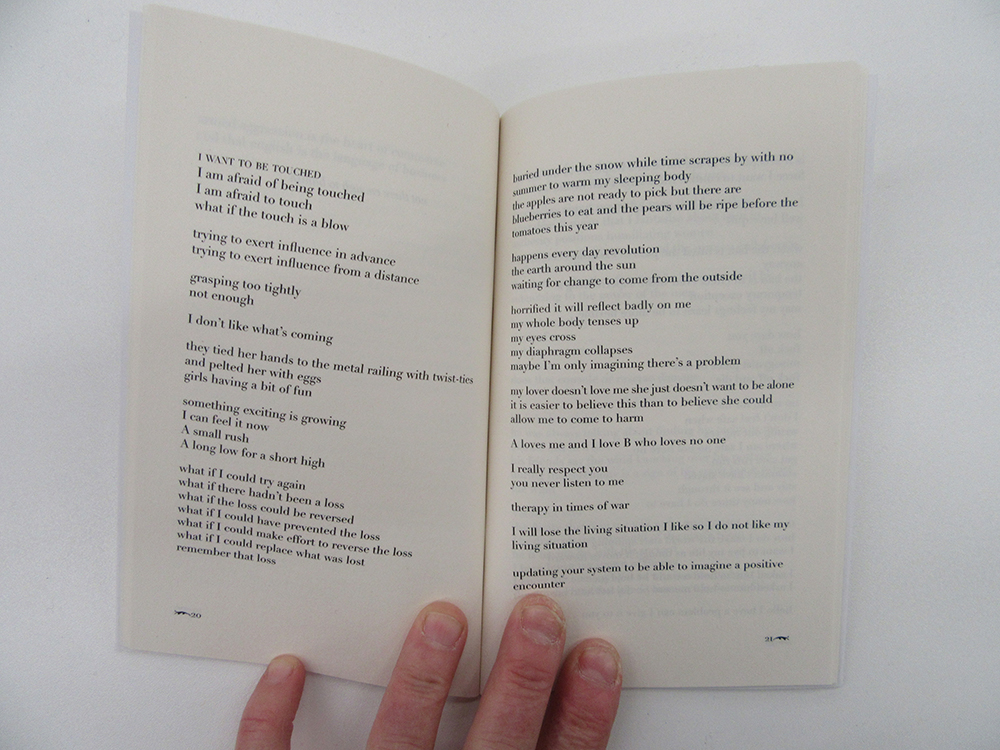 Fabienne Bideaud & Sharon Kivland, Our Libraries / Nos Bibliothèques
Introduction by Christine Finizio
CAVEAT LECTOR: In French and English, but bilingualism is not essential

'Our Libraries / Nos Bibliothèques invite à découvrir une correspondance estivale de trente jours environ entre Fabienne Bideaud et Sharon Kivland dévoilant avec humour leurs références personnelles, des livres issus de bibliothèques de maisons dans lesquelles elles vivent, travaillent, dorment, de façon permanente ou temporaire. Quelques figures apparaissent en même temps que des regards tournés vers l'île ou le jardin. Et notamment celles de Carla Lonzi, Bertrand Belin, Witold Gombrowicz, Jacques Rancière, Donna Haraway, Virginia Woolf, telle une Histoire de l'oeil ou histoire de la lecture.' Arlène Berceliot Courtin

'Caveat emptor, or reader beware—this bewitching epistolary exchange between two reading writers who read each other's reading and writing, in idle, active, and otherly preoccupied moments of cooking or working or coping, these beguiling letters will lead you to reading or buying one book after another; the time of reading this book is that of reading its readings, of thinking about the when of a reading as well as the what. This is the very best kind of fun, taking your time with grace and a kind of peaceful intensity.' Adrian Rifkin

76 pages, 170 mm x 105 mm
Format: Paperback, 2018
ISBN 978-1-910055-53-3
£10.00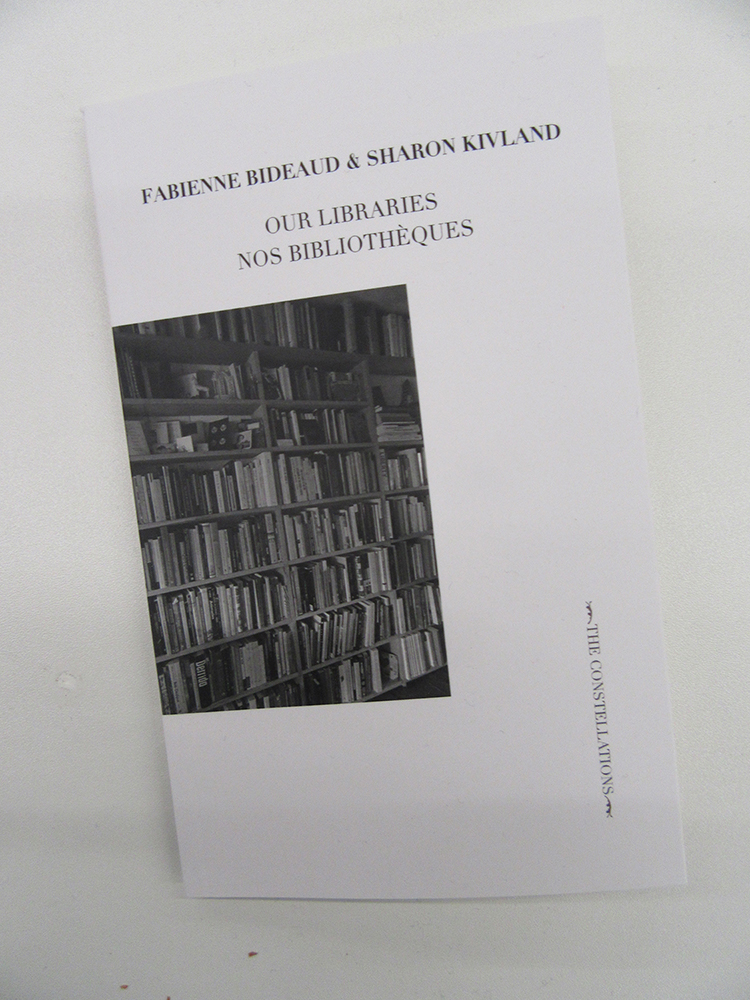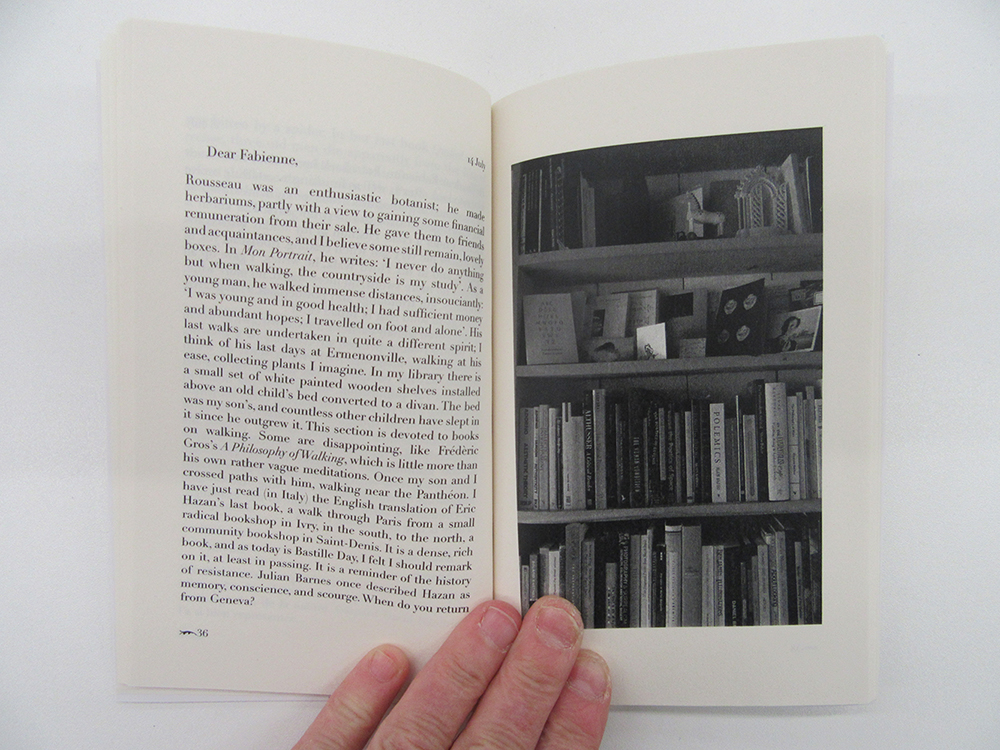 Aude Anquetil, A CASA MIA

C'était une période où tout était difficile : plus d'argent, plus de travail, trop d'hommes et d'excès pour compenser. Je suis rentrée dans le restaurant, j'ai mangé une melanzane alla parmigiana, et j'ai laissé mon numéro de téléphone, punaisé sur le tableau en liège.

J'ai lu ce livre d'une traite, avec un plaisir immense et le sentiment d'avoir attendu « ça ». Les anglophones diraient que c'est un page-turner. Sauf qu'une fois terminé, je savais que j'allais y revenir, à la Casa Mia, à la pensée de derrière.
Aude Anquetil écrit de chez les belles comme Virgine Despentes écrit de chez les moches, avec la même audace : celle de penser, en tant que femme et avec le même esprit, son travail alimentaire de serveuse, la littérature, l'art contemporain, des concepts philosophiques, la séduction, et l'espace d'un restaurant. Comme chez Chris Kraus, l'expérience est incarnée et sans hiérarchisation.
« Il y a trois personnages : Moi écrivain, Moi Pascal, Moi restaurant » et il est jouissif de les suivre, non seulement parce que l'écriture est fluide, généreuse, et rythmée de véritables pépites d'observation et de subtilité, mais aussi parce que ce que l'auteure exploreet ce qu'elle en dit est résolument nouveau. C'est une des expressions possibles d'un féminisme qui n'a plus à se battre pour conquérir l'accès à une réalité qui se pense, mais qui peut s'inventer un espace cognitif, une intelligence-virus qui va où elle veut. Fabienne Audeoud

72 pages
170 mm x 105 mm, 60 mm cover flaps
In French/En français
Format: Paperback
ISBN 978-1-910055-49-6
£9.00/ EUR 10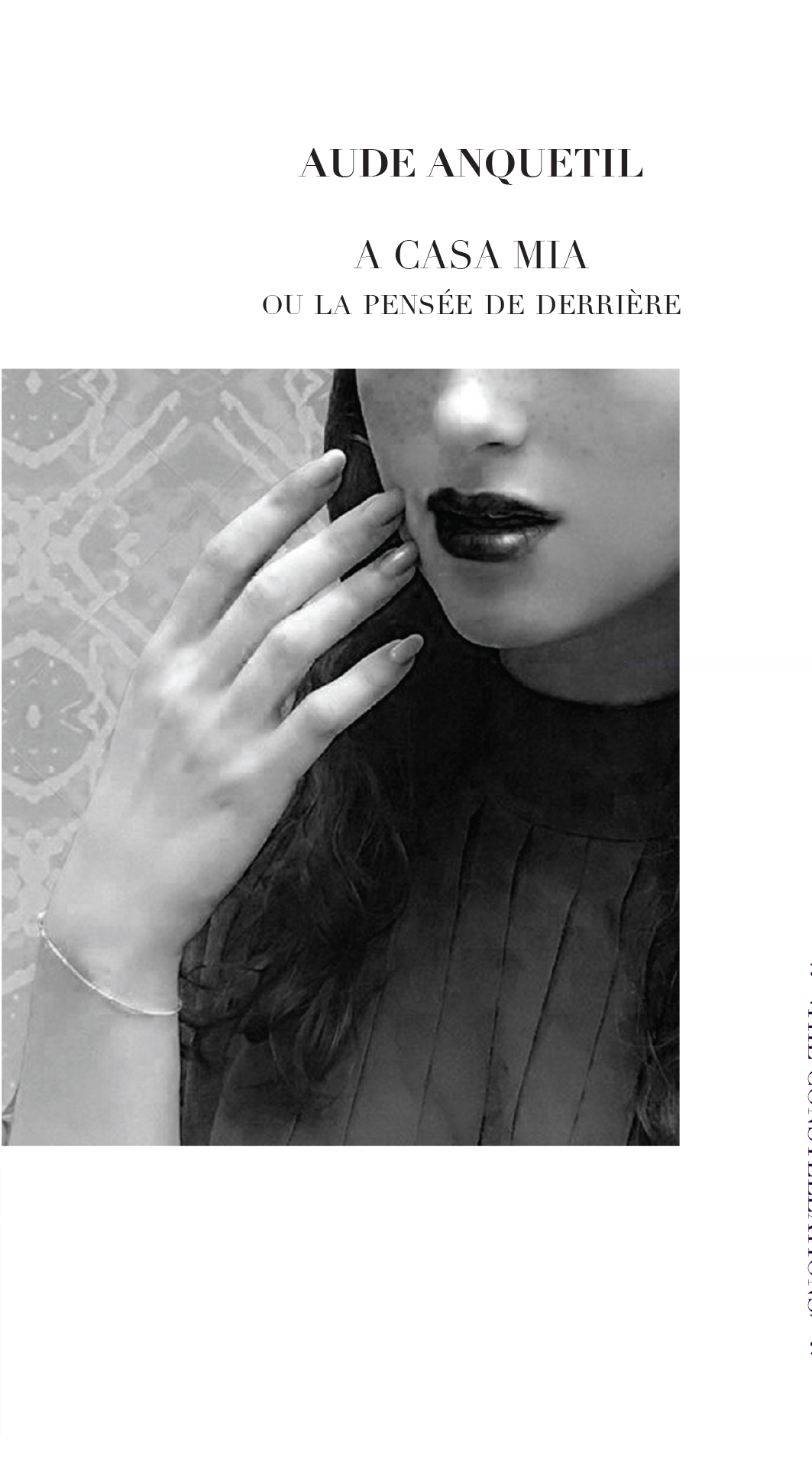 New in The Good Reader series
Joseph Noonan-Ganley, The Cesspool of Rapture
This book shows the interaction of two bodies of language from the English-American couturier Charles James (1906–78). The column registered to the left margin logs James's public speech, lectures, and theories of the stripper and burlesque dancer Gypsy Rose Lee (1911–70), while the column registered to the right logs transcripts of his private arguments and correspondence with her. Spacing, repetition, colour, and italics both emphasise and shift James's intended meaning. Readers should pull the text together as they make their way through, undertaking a similar labour of composition to the work of a zip's slider.
24 pages, Edition of 50, each signed & numbered, 190 mm x 130 mm
Format: Sewn, 2019
ISBN 978-1-910055-54-0
£5.00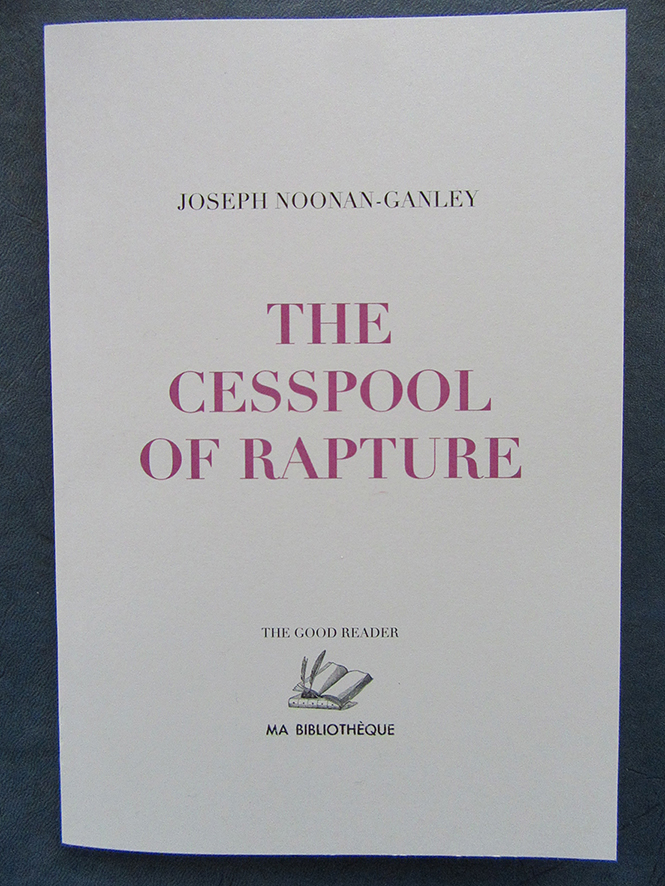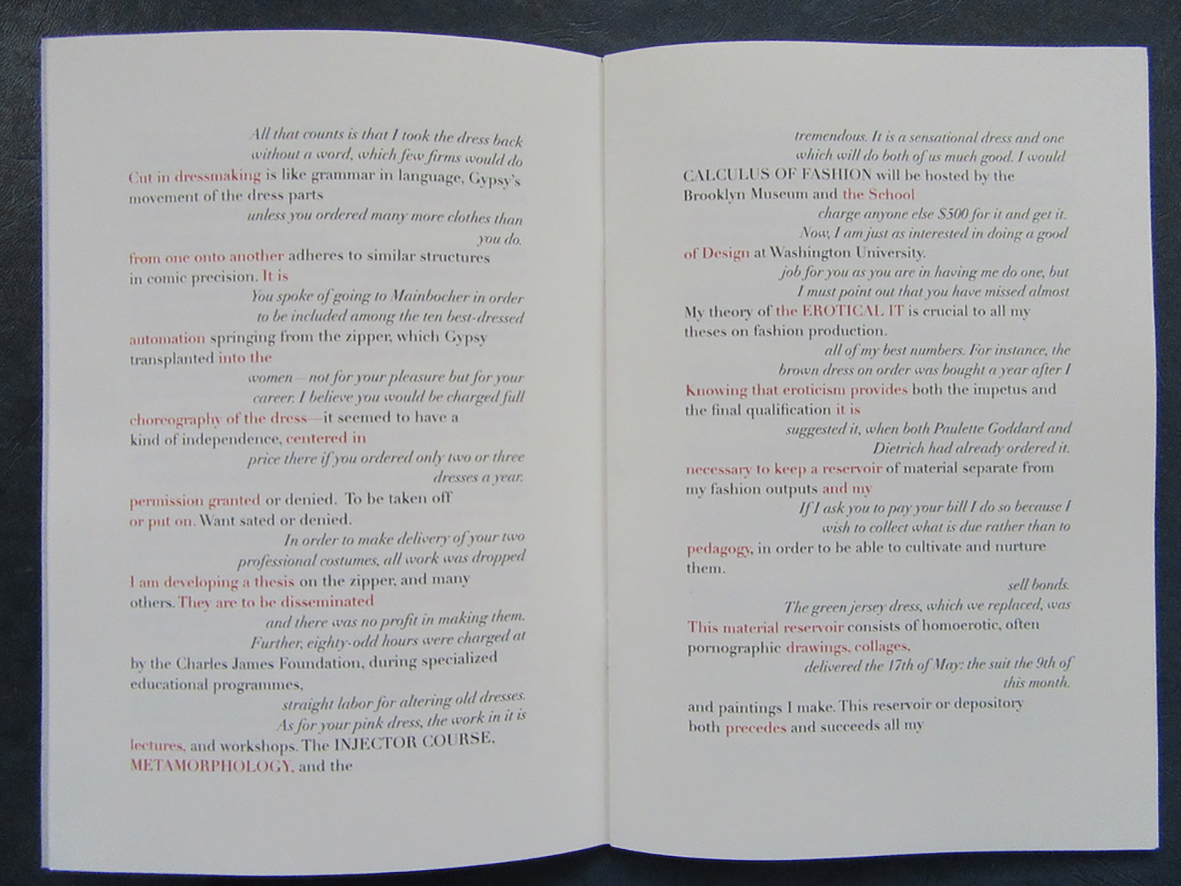 Derek Beaulieu, L'Echec de Perec
L'Echec de Perec offers a playful visual translation of Georges Perec's Alphabets (1976), transforming each oulipian poem into a glyph which resembles chessboards and crossword puzzles. Perec's compositional structure becomes the framework for a new way of writing, treating language as brickwork.

28 pages. Edition of 50, each signed & numbered, 190 mm x 130 mm
Format: Sewn, 2018
ISBN: 978-1-910055-51-9
£5.00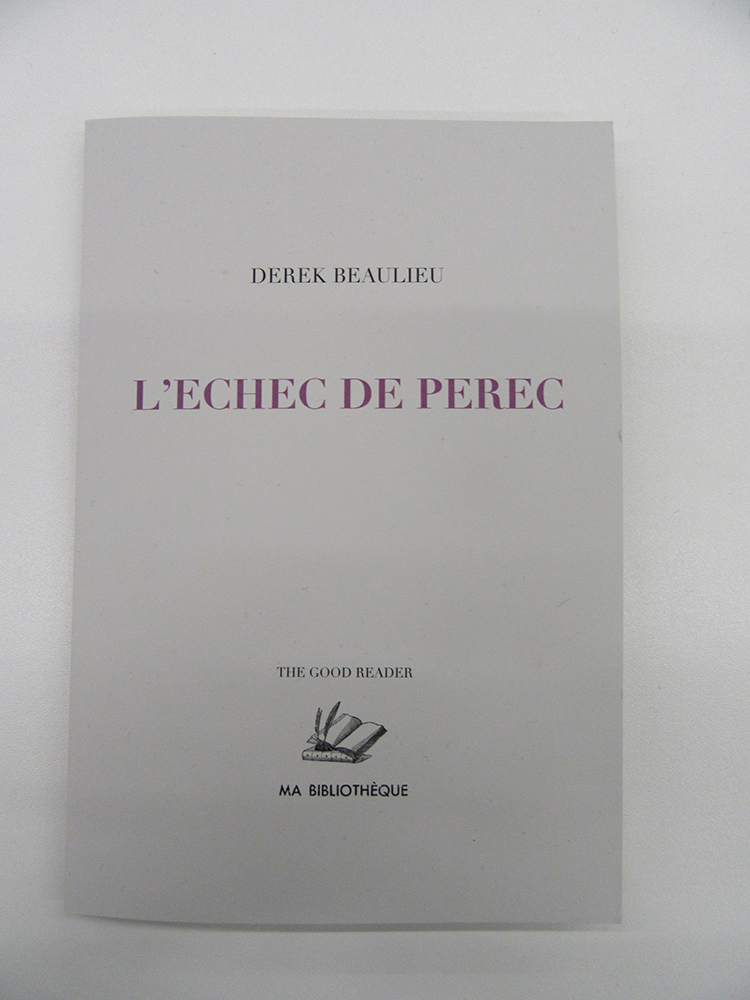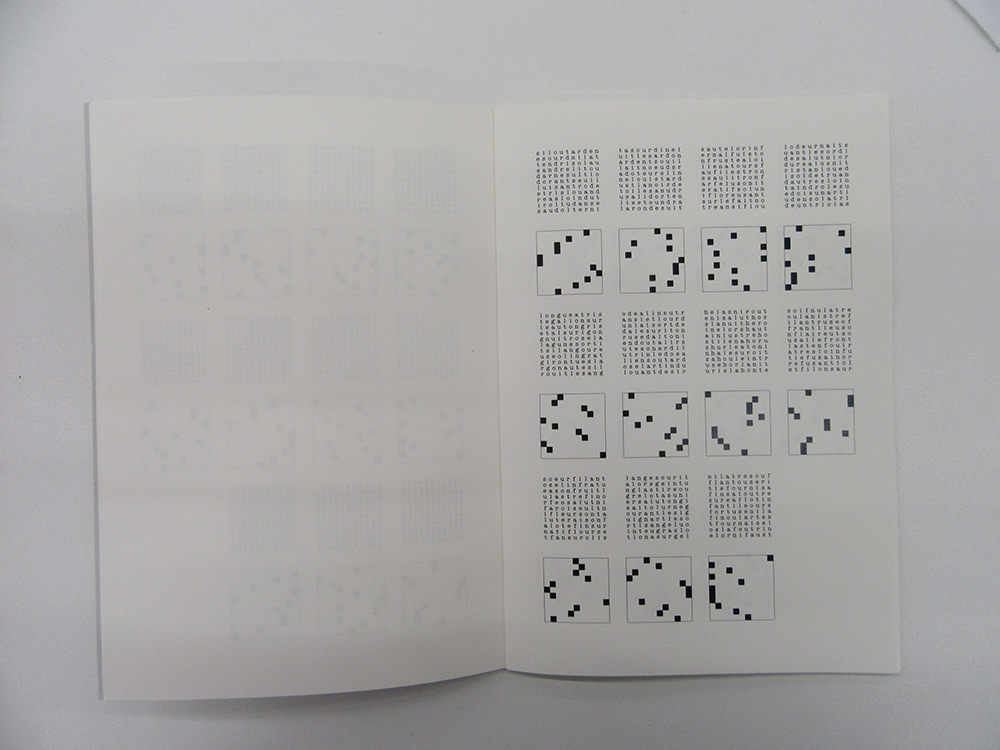 Penny McCarthy, La Biblioteca de Babel
In his short story, Pierre Menard, Author of the Quixote, Jorge Luis Borges achieved a re-creation of the Cervantes text without actually re-creating Cervantes's life. Instead, he decided that the best route was 'continuing to be Pierre Menard and coming to the Quixote through the experiences of Pierre Menard'. Following Borges, we know that the same words read differently from a different pen, and that each reader is, as much as he, a literary creator. Penny McCarthy interprets La Biblioteca de Babel by transcribing sections from her own printed copy of the book alongside Borges's first draft. So exquisite is his insect-like handwriting, with its black crossings-out and peculiar typographical symbols, its repeating visual rhythms, that in some way his script ceases to be text, instead becoming its own image. Meaning is always an on-going process for Borges, concerned less with making than making over. This version of La Biblioteca de Babel is presented alive to its intentions and potential for appropriation. Meticulous copying intentionally erases the boundaries between McCarthy's version and the original Borges: we cannot know for certain who wrote what.

28 pages and inserted index card, Edition of 50, each signed & numbered, 190 mm x 130 mm
Format: Sewn, 2018
ISBN: 978-1-910055-46-5
£5.00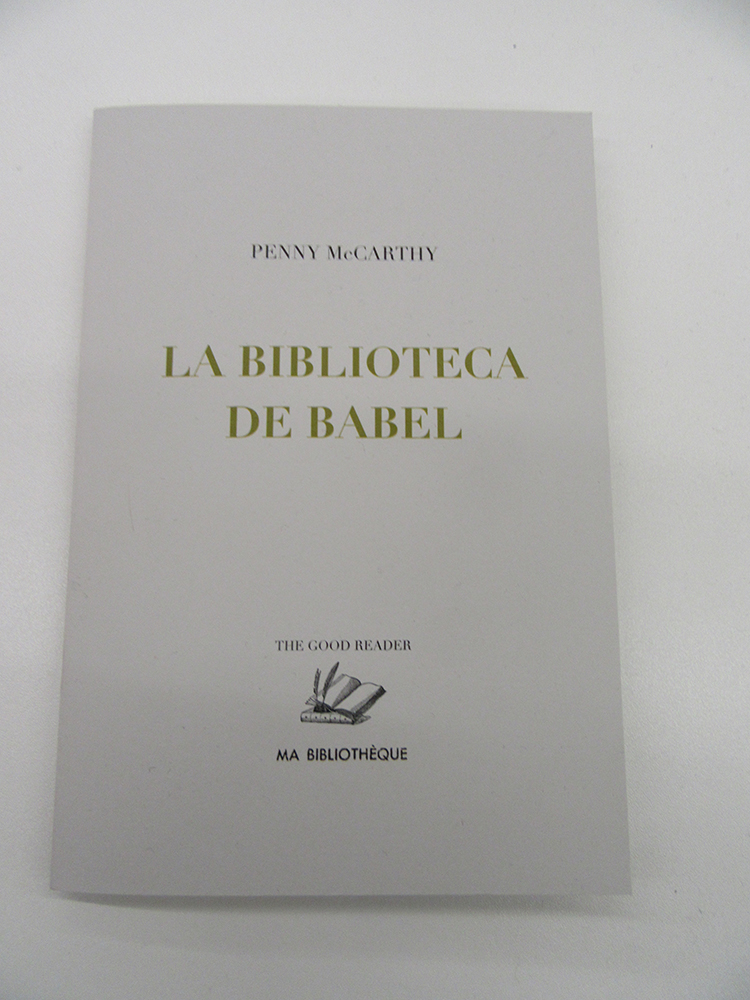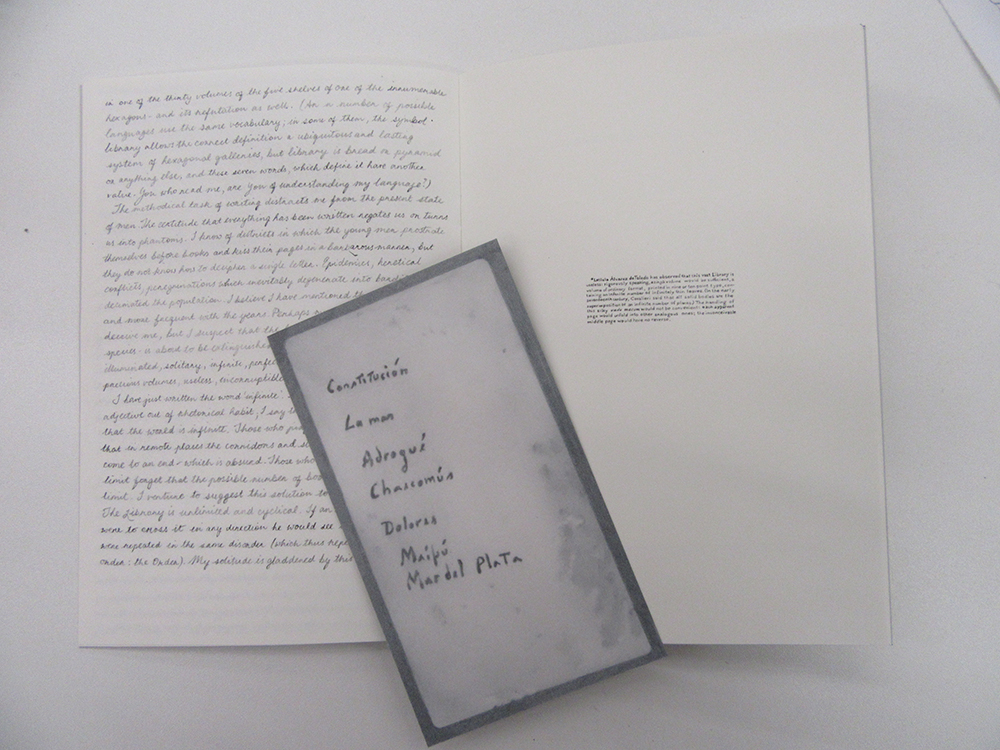 Rona Lorimer, Livre, Livret, Liver
One day a group of girls are on the street in Paris. With Marx, Freud, Lacan, and the Cops watching over them they become entangled in an argument about desire and money with a young Marxist, which leads to another of their continuing arrests.

24 pages
Edition of 50, each signed & numbered, 190 mm x 130 mm
Format: Sewn, 2018
ISBN: 978-1-910055-50-2
£5.00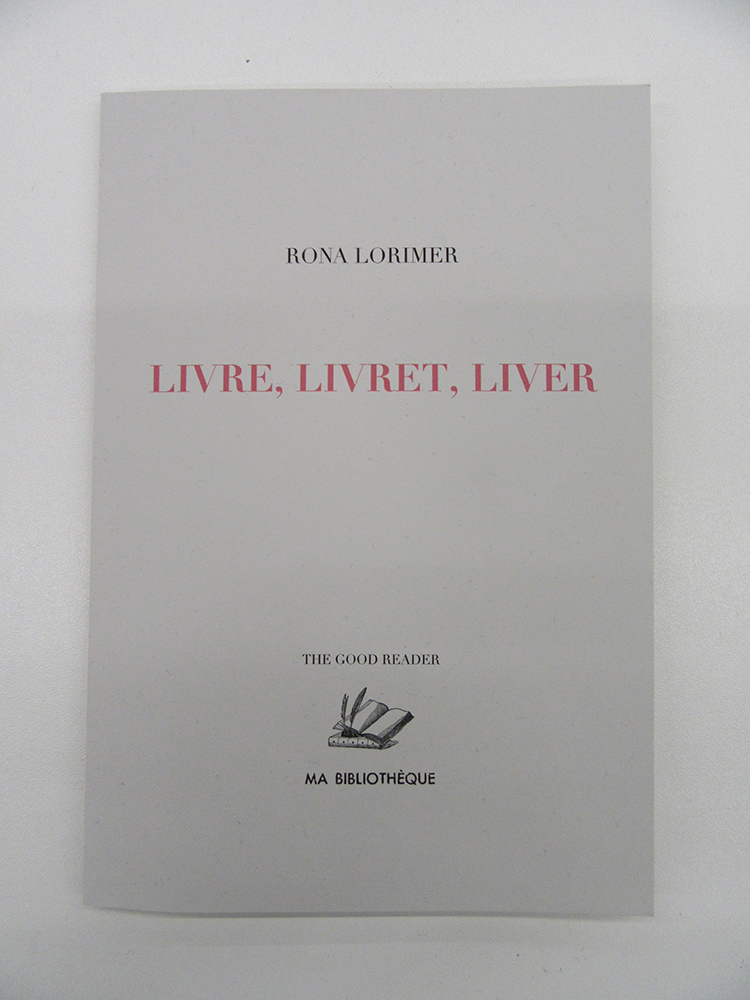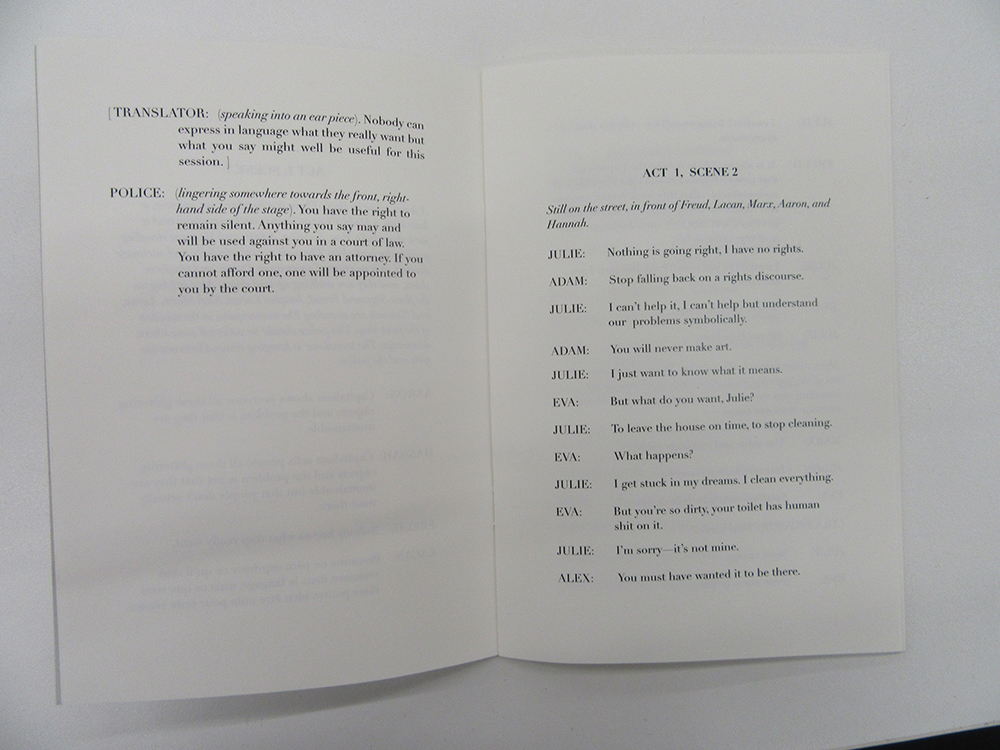 Paul Buck, Library. A Suitable Case for Treatment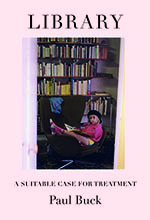 LIBRARY contains four essays and two interviews, with the pre-dominant concern of sexual questions: the subjects in art, film, and literature—the issues tied to Rivette's La Belle Noiseuse, Madonna's sexual assault in Dangerous Game, Clunie Reid's use of language, Richard Prince's obsession with books, and Paul Meyersberg's articulation about sex.
'Like Carol Reed's crippled trapeze artist now devoted to sensuality, Paul Buck is more than a suitable case for treatment. A personable deviant, Buck's culpable, desiring proximity steeps these writings, inasmuch as they are apostrophised by his appearance in cameo, inside and outside the text. Buck stalks his work, addressing us in collusive asides. Rather than the disinterest of resistable objectivity, Buck's criticism is moved by a profound personal investment in his subjects; he does not elide his complicity, nor does he quiet moral considerations. Discussing Richard Prince's library or Madonna's instrumentality, Buck makes the possessive, accountable case throughout. His underlying subject is the snarl of art and life, and the perils that abound in their confusion in the personal and their forced dichotomy in culture at large. Art, for Buck, cannot be an apology for the failures of experience, but instead is a compulsive and risky exposure, like a heretical grace, modelling life for our benefit.' Ed Atkins
'Translator, poet, collagist, archivist, novelist, and all-around intellectual impresario, Paul Buck has a formidable knowledge of culture that he shines like a laser in LIBRARY on Richard Prince, Madonna, Abel Ferrera, and the erotics of painting and representation. He approaches the critical essay like a crime scene investigation. LIBRARY is a fantastic read'. Chris Kraus
'These writings by Paul Buck with all their joyful refusals, radical and playful, work on each other at a pace that opens up to writers, artists, and filmmakers. This is a luminous book, as Gertrude Stein's writing is luminous, casting its glow with and on the act of writing. Buck is a writer, poet, performer, and publisher who asks how to approach, look, make, write, or even listen to the writer writing, asking what constrains, what puts art before us or does not, as well as admitting the slide into critique or the sheer fury and disgust when the risk of art encounters its institutions. What impresses is Buck's oblique approach to keeping the reader open to the nature of what the subject might be. We hear him through the rhythms of his writing; it is impure—and it is a pleasure.' Denise Robinson



Riccardo Boglione, It is Foul Weather in Us All
ISBN 978-1-910055-44-1
132 pages
200 mm x 140 mm
Format: Paperback
£15.00
Contributors: Paolo Argeri, Luz María Bedoya, Carlos Capelán, Claude Closky, Felipe Cussen, Pablo Echaurren, Belén Gache, Sharon Kivland, Michalis Pichler, Nick Thurston, Pablo Uribe, Luca Vitone
Riccardo Boglione sent copies of Shakespeare's The Tempest to twelve artists living in Europe and America, each copy in the language of the country of residence of the artists, asking them to leave the book outside to the weather for as long as they wanted. The pages from those mistreated volumes reconstruct a Frankensteinian version of the play. In an extension of the metaphor of the tempest, the author gathers a small collection of injured volumes, mimicking Prospero's book. Simultaneously he produces a version of Shakespeare's play that shakes notions of authority (who is the real author? The invited artists? The English Bard? Boglione? The translators? Bad weather? Time?) and aesthetics (the 'work' of rain, snow, wind, and sun transformed the text's characteristics, giving it a sculptural dimension that obfuscates its literary one). At stake once again, the perpetual dualisms: objects and words, nature and culture, Old and New World.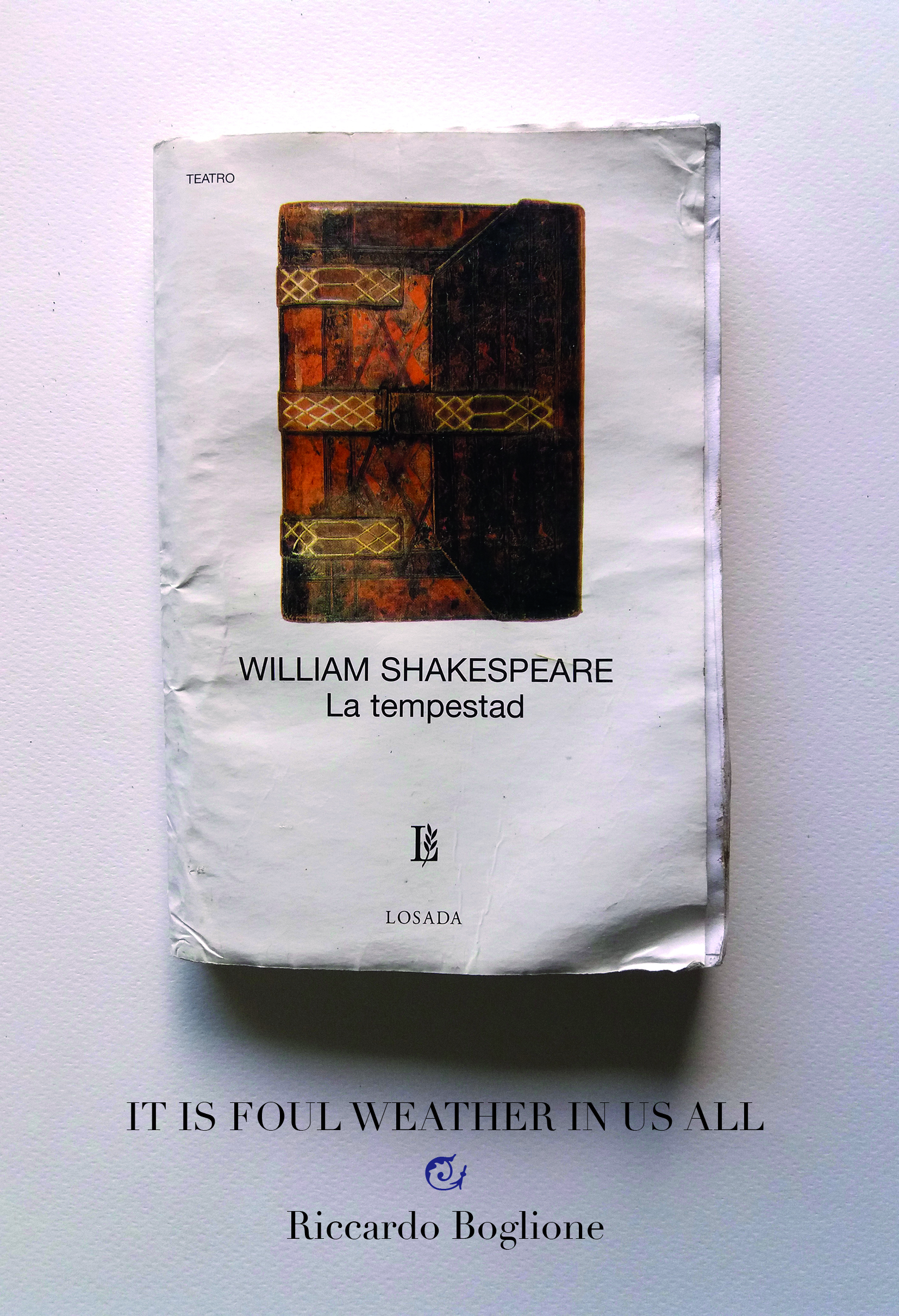 'In 1919, Marcel Duchamp sent his sister a wedding present from Buenos Aires. He proposed that she leave a book outside, at the mercy of the elements, to be wind-warped and roughly read by its environment. It was referred to as the Readymade Malheureux. Almost a century later, Boglione offers some dozen such gifts anew, but in place of the geometry textbook used by Suzanne Duchamp, the book in question is William Shakespeare's The Tempest. Prospero famously promises to bury his magic staff 'certaine fadomes in the earth' and then drown his grimoire 'deeper then did euer Plummet sound'. Despite his abjurations, however, Prospero continues to command and enthrall with his charms. Here too, the gorgeous resiliency of text perpetuates enchantments with new spellings and 'seuerall strange shapes'. Behold the rough magic that remains.' Craig Dworkin
'The monuments of Classical Literature: adored, dead. Traditionally, we bring them back to life by engaging with their time-tested ideas: ideas that have been manufactured and handed down by institutions of learning. A pin-hole view that can also be necrophilic. It Is Foul Weather In Us All contests this relationship to received ideas, inviting artists and writers to use Shakespeare—literally. By instructing the participants to leave their copies of The Tempest out in the rain, Boglione constructs a transformative reader-writer dialogue that is truly present—what can be more present than our daily weather?' Robert Fitterman
'As if by a miracle, Boglione's sacrilegious instigation to book ruination proves to be a profession of love to book culture and literature. He turns out to be a sorcerer capable of converting destruction into production, whose mastery is on a par with Prospero's magical power. Prospero's words could be Boglione's own calming words addressed to the very likely alarmed reader: 'Be collected. / […] tell your piteous heart / There's no harm done.' Annette Gilbert


Kreider & O'Leary, Field Poetics
ISBN: 978-1-910055-42-7
144 pages
205 mm x 140 mm
Format: Paperback
£15.00
Field Poetics explores five different places, each with a story to tell, each with a unique mode, form, and vocal register through which to tell it. The writing journeys through a sequence of Andrei Tarkovsky's 'film images', the multi-dimensional, interconnected space machine of the Bonaventure Hotel in Los Angeles, maritime pockets on the edge of the city of Lisbon, a history of silence and surveillance in a derelict wing of the Cork City Gaol, and the transposition of a centuries-old landscape aesthetic through video, performance, and pop in fourteen locations across the Kansai region of Japan. Sometimes documentation, sometimes score, and sometimes the work of a poet and an architect engaging with these sites, Field Poetics spins, suspends, and extends a relation to place.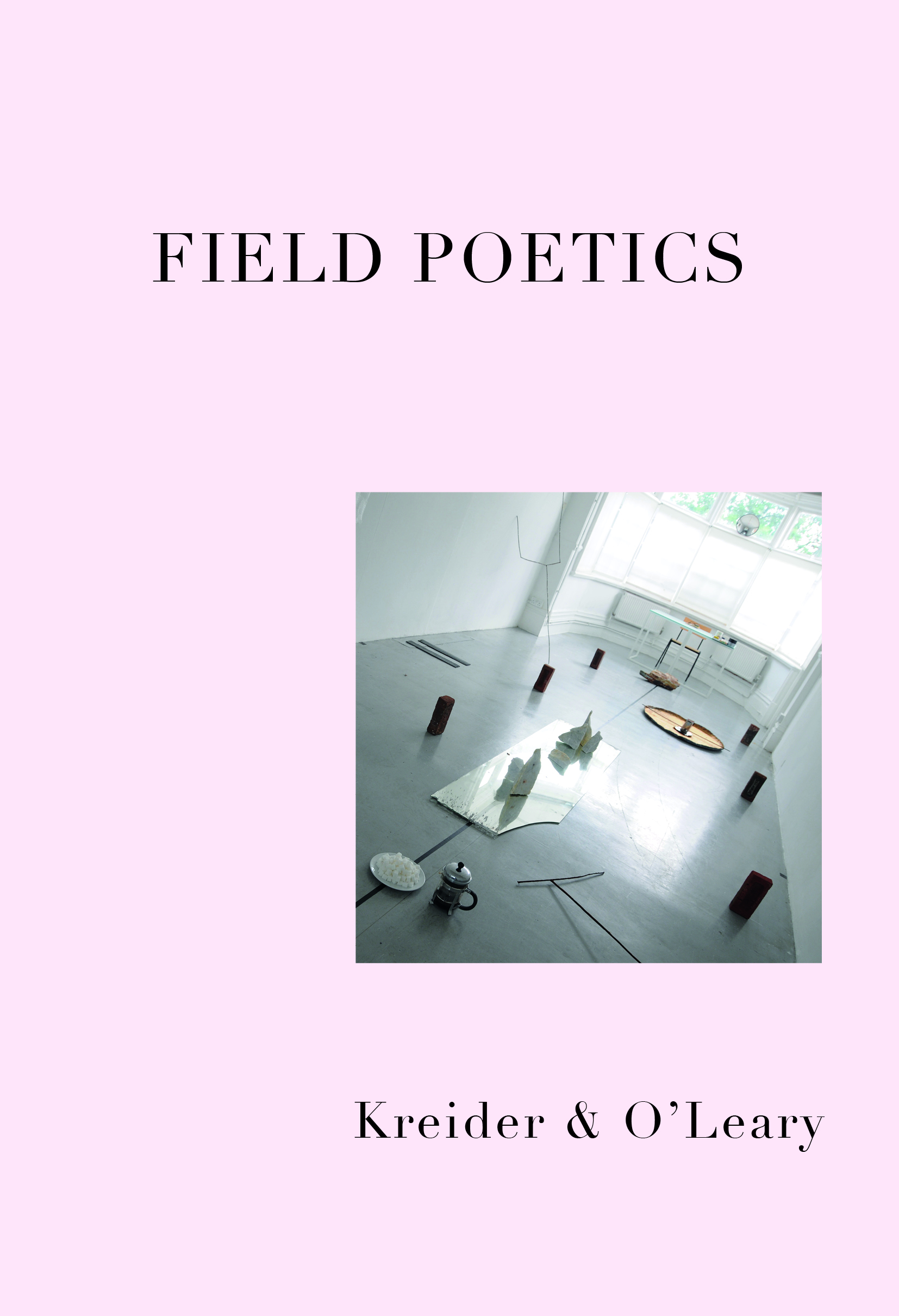 Field Poetics is the second volume from this longstanding partnership between a poet and an architect. With fluidity and thoughtfulness it uses what such a meeting may enable. Through sparse and precise poetic pieces and diagrammatic ink sketches, this work operates like a dystopian travel journal, making up a universe of flat lines and temporary stations through a series of real and unreal places. Architexture of un-dwellings. Caroline Bergvall
The field here features buildings, waste, trees, pools, deadliness, aliveness, the real, the unreal, a watch, bees, and the smell of roses; in other words, it maps the wilds of everyday being-in-the-world. The poetics concern the making, taking, sharing, layering, writing, and invention of the field's images. Field Poetics is a work of (and primer for) firsthand, politicised, transformative observation for looking closely at complexity that is so exacting and so exciting at the level of the line, and so expansive in its thinking and its forms, it quite took my breath away. Kate Briggs
Kristen Kreider and James O'Leary's Field Poetics makes reference to a book entitled Wild Fields: Looking Closely at Complexity—a book that might be entirely fictitious, but whose sub-title might equally be applied to Kreider and O'Leary's text. Field Poetics presents close observations of cultural ruin, loss, and hope by straddling the formal boundaries among lyric poetry, theoretical discourse, and visual image. The text echoes Charles Olson's notion of composition by field, to the extent that Kreider and O'Leary recast poetic activity as an alterative mode of research on form, history, and the mythologies of contemporary culture. Peter Jaeger
THE DESIRE FOR HAIKU
READING ROLAND BARTHES. THE PREPARATION OF THE NOVEL
Emma Bolland, Helen Clarke, Louise Finney, Sharon Kivland, Debbie Michaels, Bernadette O'Toole, Rachel Smith
ISBN 978-1-910055-45-8
12 pages
205 mm x 140 mm
Format: stapled/sewn pamphlet
£3.00, with free post & packing
For two years we have been reading The Preparation of the Novel by Roland Barthes, the collection of the series of lectures he gave at the Collège de France between 1978 and 1980, completed shortly before his death in 1981. He declared his intention to write a novel, and in this pedagogical experiment, explores the trial of novel writing. This year we are reading his lectures on his favourite literary form, the haiku, a poem of seventeen syllables in three lines of five, seven, five, usually containing a seasonal reference. He confronts the problem of how to pass from Notation (of the Present), 'a short fragmented form', to the Novel, 'a long continuous form'. For Barthes, the haiku is an 'exemplary form of the Notation of the Present', 'a minimal act of enunciation' that 'notes [...] a tiny element of "real", present, concomitant life'.
Our haikus are Barthes's haikus, or rather, our haikus are constructed only of his words, extracted from the chapter entitled 'The Desire for Haiku', one from (or even for) each page. It is an experiment in writing, if not a search for a form (for that is given), drawn from our more or less monthly meetings during the academic year around a table to talk about writing, the trial of writing, one that may show the rhythm of our reading.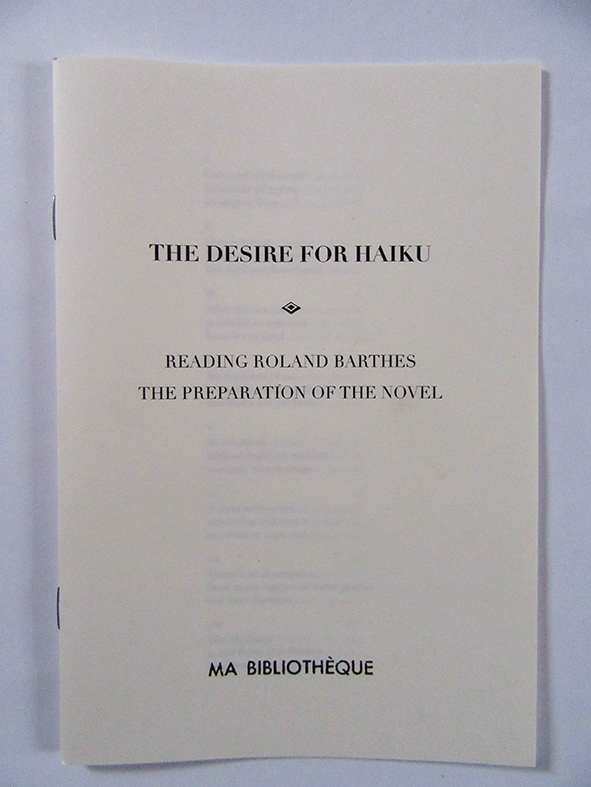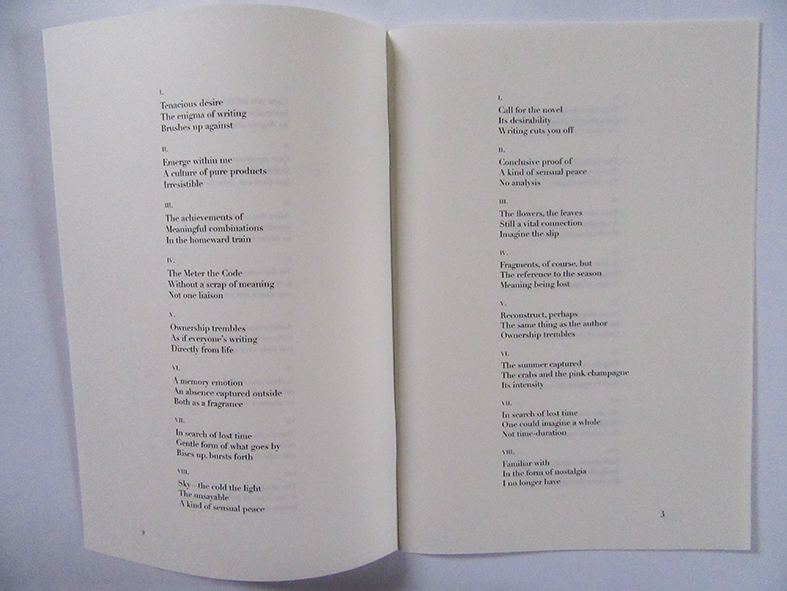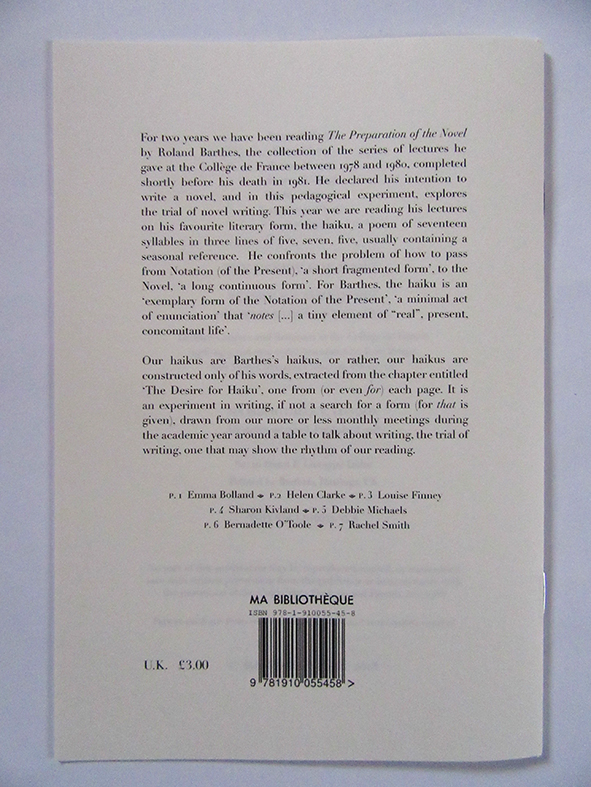 ON VIOLENCE
Edited by Rebecca Jagoe & Sharon Kivland
Travis Alabanza, Katherine Angel, Skye Arundhati-Thomas, Mieke Bal,Janani Balasubramanian, Elena Bajo, Jordan Baseman, Emma Bolland, Pavel Büchler, Paul Buck,Kirsten Cooke, Jih-Fei Cheng, John Cunningham, Andy Fisher, Caspar Heinemann, Jakob Kolding,Candice Lin, Rudy Loewe, Nick Mwaluko, Vanessa Place, Katharina Poos, Tai Shani, Linda Stupart, Benjamin Swaim, Jonathan Trayner, Jala Wahid, Isobel Wohl, Sarah Wood

Publication date 14 February 2018
ISBN 978-1-910055-41-0
248 pages
205 mm x 140 mm
Format: Paperback
£15.00
Violence is in language and violence is language. The violence of language stratifies voices into those that matter and those that do not, using ideas of appropriate form and structure as its weaponry. It claims propriety and politeness are the correct mode of address, when urgency and anger are what is needed. Where languages intersect, hierarchies of language become means for domination and colonization, for othering, suppression, negation, and obliteration. The demand for a correctness of grammar, the refusal to see what is seen as incorrect, the dismissal of vernacular in favour of the homogenised tongue: all are violent. The narrative of history is a narrative of violence. The contributions herein refuse this narrative. They explore how violence permeates and performs in language, how language may be seized, taken back to be used against the overwhelming force of structural and institutional violence that passes as acceptable or normal. Violence may be a force for rupture, for refusal, for dissent, for the herstories that refuse to cohere into a dominant narrative.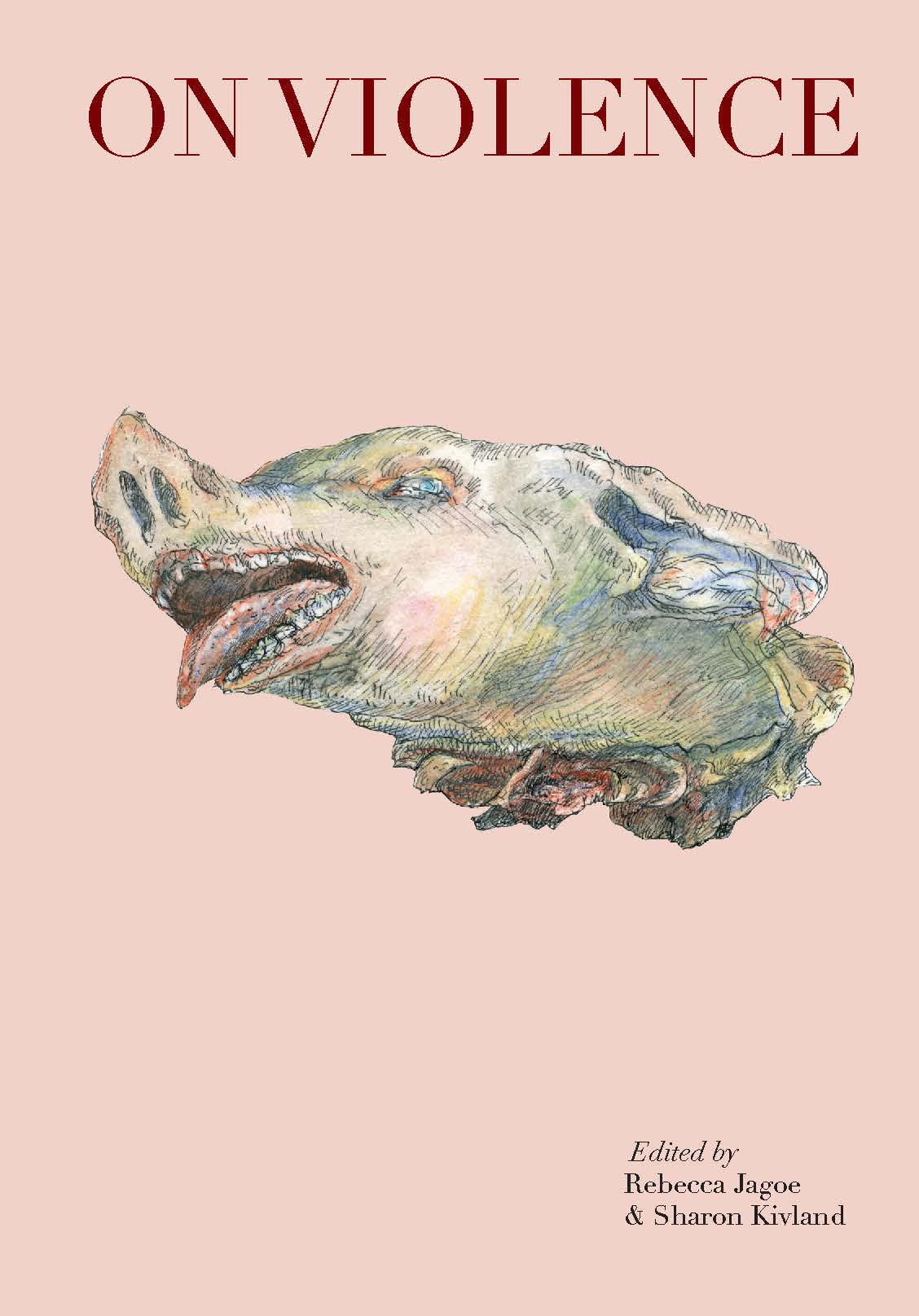 'This powerful collection forces us to look beyond definitions of violence as either intentional harm or impersonal force, and our belief that systemic cruelty is the exception rather than the norm. These authors discriminate in the best sense, offering rare insights and perverse pleasures, while showing that violence is not only a matter of categorising and eliminating others, but also is tied up with how we distinguish and articulate ourselves.' Paul Clinton
'This brilliant and well-timed anthology explores not just the horrors, but the pleasures of violence: violence as a means of reaction, regeneration, and self-affirmation. The writers do not fetishise violence, but they approach it on its own terms. Stripping off layers of received rhetoric, ON VIOLENCE is an extremely clear-eyed depiction of the universal American psychic climate.' Chris Kraus
'The last century was dubbed the century of wars and revolutions, and still it bleeds on. But what On Violence reminds us is that all scales of cruelty, carelessness, and abuses of power differentials suffuse all dimensions of life. The organs and apparatuses of violence evidenced in this volume are broad in scope and application; their traumatic or galvanising effects are exposed, decried, theorised, or absorbed into fantasies that reveal them in all their absurdity. This is an exuberant book of bodies and grit heaped up in convolutions of tenderness, outrage, and sly joy.' Sally O'Reilly

THE CONSTELLATIONS: A group of stars forming a recognisable pattern that is traditionally named after its apparent form or identified with a mythological figure. A group of associated or similar people or things.A new series of books from MA BIBLIOTHÈQUE.
Sarah Wood, Civilisation & Its Malcontents, 2017
ISBN: 978-1-910055-39-7
76 pages
170 mm x 105 mm, 60 mm cover flaps
Format: Paperback
£9.00 / 11,00 euros
Caught up in the vortex of this bellicose age, adrift on the sea of digital information and misinformation, without perspective enough to glimpse the future that is actually forming, I am finding it hard to think.
Here is a book about thought right now and about how to think in a world that asks us at every level not to. Discontent? Malcontent? Sarah Wood looks at the world through Freud and fraud.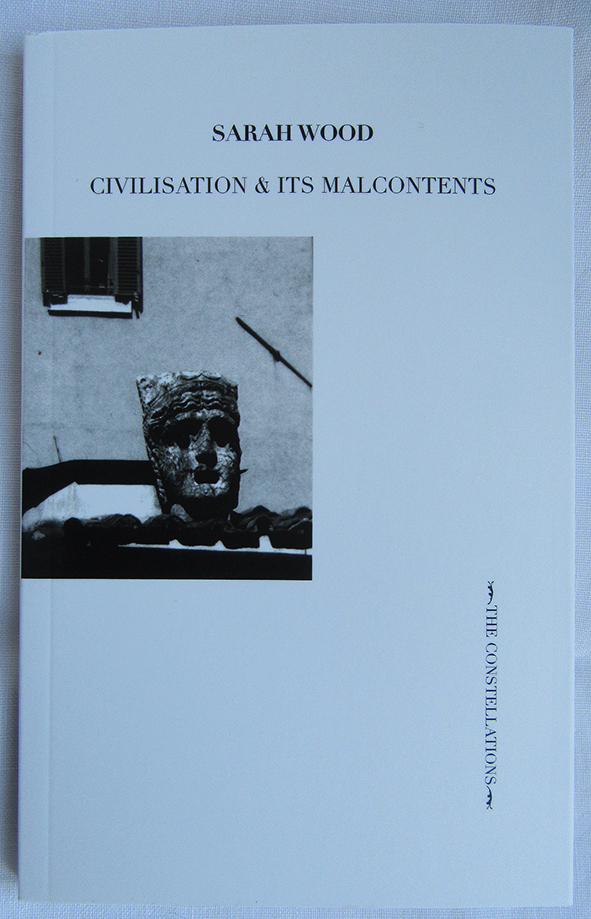 'Sarah Wood reads Freud through a twenty-first century lens—updating his view of civilisation with considerations of algorithms, automation, Brexit, border controls, and non-linear warfare. A poetic, provocative book.'
–– Juliet Jacques

Claire Potter, Round that way, 2017
ISBN: 978-1-910055-38-0
40 pages
170 mm x 105 mm, 60 mm cover flaps
Format: Paperback
£6.00 / 7 euros
But the air lays thin and low in the towns around here. Precipitation from the hills causes the pressure to drop off, it puts distance between the air's molecules, bringing on headaches and low spots where storms kick up. Round that way is Claire Potter's second published book. It brings together CHAVSCUMBOSS, a poetic experiment in writing while watching the performance of masculinity by the YouTube user of the same name—and a short story, PRESSURE, in which a house fire raises painful heat in the residents of a small northern town.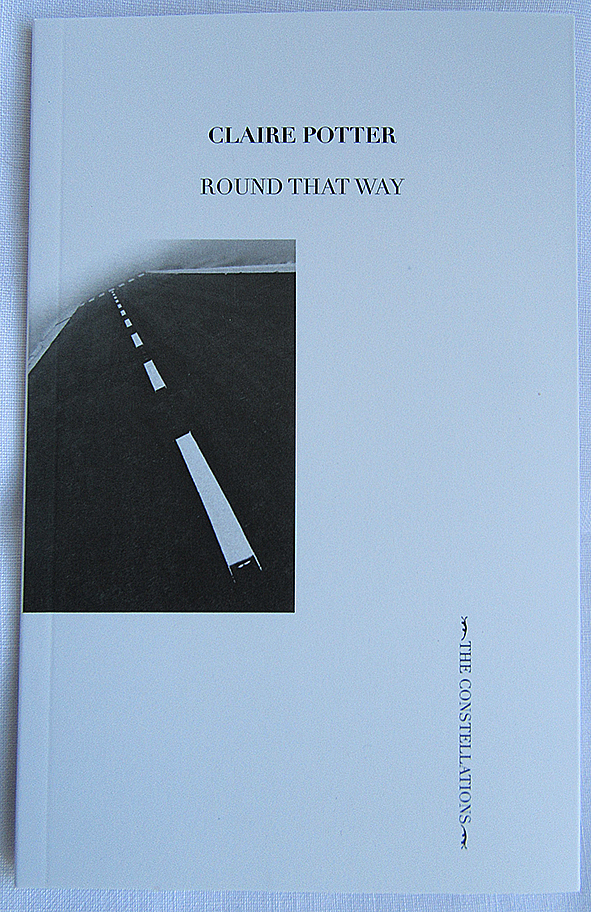 'Claire Potter's writing is like a wicked eye, scanning behaviours, angles and dimensions. This new work turns
line-breaks into a kind of social thought, and beats stories out of the awkward gaps in country, accent, architecture, and flesh. Left stung by its pages, readers will take great pleasure from the extraordinarily nervy shapes and voices in this book.'
––Holly Pester



Sean Ashton, Living in a Land, 2017
ISBN 978-1-910055-37-3
148 pages
160 mm x 110 mm
Format: Paperback
ISBN 978-1-910055-37-3
£10.00 / 12,00 euros
Living in a Land is a novel written almost entirely in the negative, consisting mainly of things the narrator has never done, no longer does or will never do. Given that what he has not done is more diverse than what he has, there is much ground to cover, and he approaches the task with arguably greater zeal than a conventional diarist. A study of the conceivable versus the actual, the personal versus the universal, idiocy versus logic, black versus white, circles versus squares, renting versus buying, Living in a Land is a chronicle of a mind fighting its own oppositional nature, a portrait of a hypothetical man.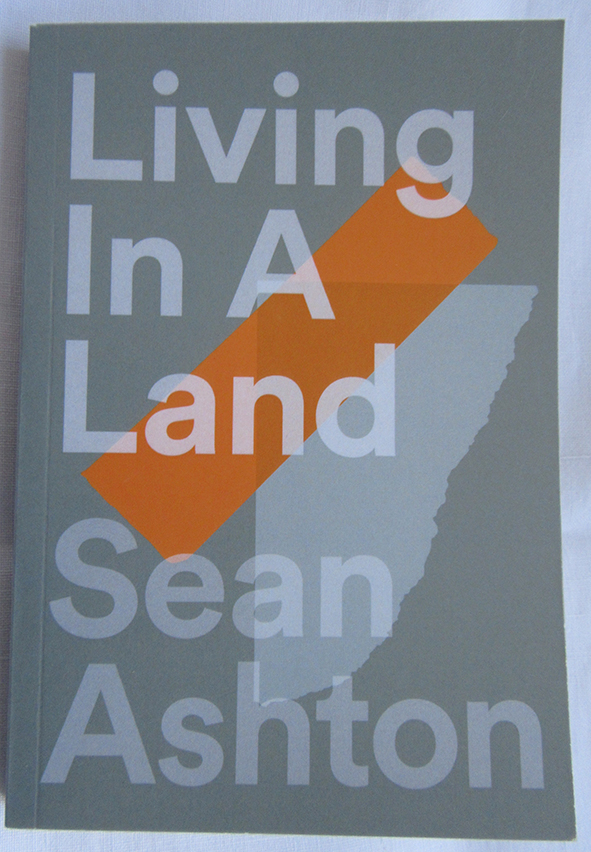 'Sean Ashton's Living In A Land takes the old adage that we could define ourselves by what we are not for a new ride. Each sentence of the novel offers personal and social insights through the negative—a concept that allows Ashton to flood us with Proustian details and a dizzying imagination of unexpected confessions: "I have never stinted on the garlic, or gone too far on the nutmeg…" Readers will feel invited, even compelled, to respond: Me too! Never!'
––Robert Fitterman
'Buy this book rather than anything else. It's just the funniest, most enjoyable and oddest read I've had in years.'
––Darian Leader
'Like Christine Brooke-Rose or Georges Perec, Ashton works within his self-imposed limits with energy, wit, and inventiveness
; Living in a Land […] provides an implicit diagnosis of both the proliferation and constriction of possibilities in the way we live now, facing a profusion of lifestyle choices which are in fact closely circumscribed and which never touch the real.'
––Nicolas Tredell





Buster V. Dachy, The Crumpled Envelope, 2017
Buster V. Dachy pays homage to Poe, Gombrowicz, Godard, and Lacan's destined 'purloined letter'. This unusual novel follows the structure of a play, with acts and scenes, but it entertains a rather ambiguous relation to narrative. Although there is one (a detective story even), with beginning and end, it appears to be distributed beween a number of characters and voices, which are not always clearly distinct. Yet, the characters are assigned in the ordinary way of a play: they have names, roles, titles, and functions. Undoubtedly the main male character is rather sophisticatedly grotesque and the lead female character rather elegantly contrived. Visitors sound like shadows, which leaves the stage to four museum guardians who are the true heroes of this melancholic comedy. It finishes as it started, with a categorical sense of insignificant necessity.
ISBN 978-1-910055-35-9
204 pages
160 mm x 110 mm
Format: Paperback
£10.00 / 12, 00 euros
'Buster Dachy put his finger on the nail. And the hammer on top.'
–– K. Kraus
'This novel is nothing short of a remarkable proof of the difference between "vain substance" and "crucial insignificance".'
–– G. Orwell
'At last the return of the possibility of refusal.'
–– L. Michel
'I might not have understood everything but I agreed with it all.'
–– J. Joplin
'This comedy brings dignity to those who know how to laugh.'
–– Juvenal